Shipment for Virtual Products
Ships virtual products (software, music, videos, books) to your customers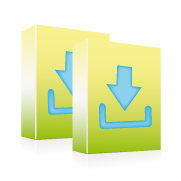 Rating: 4/5

Price:
Salesprice with discount:
Discount:
Tax amount:
Extensions Specifications
Prerequired for installation:
VirtueMart 2.0.8
Available in Joomla version


Includes
More about
License type:
Proprietary
Languages included
Description
This plugin creates a link for downloadable products media and provide it to the customer via email and in the order view.
This links are not direct static links, they just generate after tests the correct download stream.
Therefore the downloadable data can be stored outside of your http directory for safety reasons.
Update Version 1.2:
It is now possible to limit the downloads by
maximum downloads all together
maximum days after the first download
downloads per time intervall
timeframe based
Attention, when you use vm2.0.6, then you must exchange the config.php in the Backend helper against the version of 2.0.8 before you store the parameters the first time!
The new version fixes the small bug that the link appeared not in an email, when the pdf invoice was sent synchroniously. The latest version indicates a compatibility to 2.0.20, but it works also good with old versions.
Tutorial about Shipment for Virtual Products