XCloner - Backup and Restore made simple!
Professional Backup Application for PHP/Mysql websites.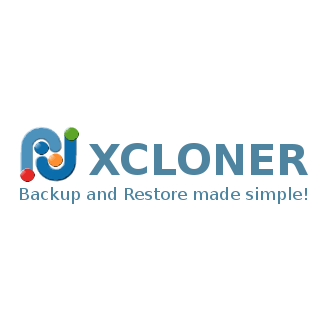 Extensions Specifications

Languages included





Description
XCloner is a professional website Backup and Restore application designed to allow you to create safe complete backups of any PHP/Mysql website and to be able to restrore them anywhere. It works as a native Joomla backup component.
Complete Website Backup
Backup your website files and databases, send them to the cloud, restore backups anywhere.
Automatic Backups
Create automatic backups with the built in XCloner cron script, and send them to Amazon S3.
Secure
XCloner has a built in security layer to protect and easily restore your website backups.
Restore Backups Anywhere
Easily restore backups on any location compatible with your website by using the XCloner restore.
Open Source Support
XCloner works as a native Joomla backup extension, Wordpress backup plugin and Standalone website backup application.
Professional support
We offer Professional 24/7 support through the Free forums or Premium membership.
Features
Backup and Restore any PHP/Mysql website
Create custom backups
Generate automatic backups based on cronjobs
Restore your backups anywhere
Share your custom backups with your clients
Store you backups on the Amazon S3 cloud
Backend available languages: spanish, dutch, deutsch, english, italian, polish, russian, catalan, french
Incremental mysql backup supporting large databases
Incremental file system scanning and backup supporting large websites
Backup Split option for environments with limited filesize
JQuery Start UI
Incremental files restore supporting large backups
Backend Features
Create full or partial backups based on your input
Create simple or compressed backups based on your configuration input
Possibility to exclude directory and files from the backup, manually or through cron settings(AJAX powered)
Create backups based on a cron task, created backups can be stored on the local server, remotely through ftp or emailed
Delete backups older than a certain number of days
Ability to manage existing backups, rename/delete/move, publish to user frontend for sharing
Possibility to clone any backup to another location, it can be done automatically by using the server functions or manually
Configuration area lets you choose on how to generate backups based on your server possibilities
You can choose to create backups by using only PHP, or by also using some server utilities to speed things up
Generating backups through Cron Jobs
Create backups at any time with the help of our cron script
Store the generated backup locally, through email or a remote ftp location
Send the generated backup to the Amazon S3 cloud service
Run Multiple cron jobs based on custom configurations
Create full or partial backups
Restore Features
The generated clone of XCloner can be restored on a totally different server, with new server and mysql details
Restore both simple and compressed archives
Restore script is independent from the main component and can be run on any host
The restore script is located inside the XCloner archive, in directory restore/
Full restore of a clone made with XCloner
Ability to restore the original files and directories permissions
Automatic update of the new host settings to the configuration file
Ability to import the clone using either a ftp simulated sessions, or direct restore through php
Possibility to exclude database from importing
Ability to restore multiple clones to different locations
Compatibility & Requirements
PHP 4.3.x or above
Joomla 1.5.x, 1.6.x, 2.5.x, 3.x native component
Any hosting environment running PHP, 5.2.0 recommended
Mysql 5 or above
Safe_Mode turned Off
Open_basedir set to No Value
php.ini max_execution_time set to a higher limit
exec() function enabled if you want to use the server utilities mysqldump and tar
Reviews
There are yet no reviews for this product.