VirtueMart MP3 Player
VirtueMart Mp3 player plugin allows customers to listen music trial through audio files with a friendly and powerful flash player.
Description
VirtueMart Mp3 player plugin has an elegant look, working out of the box. The extension includes three components to dedicate VirtueMart music sales stors. Administrators can manage a complete backend with music products. Everything can be customized such as mp3 player, speed and transition effects. Users can create two types of files as trial or full versions on their music stores. It's safe that a download link only appears after the order is confirmed and the real link will be hidden until the customer enters a password sent to them via emails to download links. Admin can insert a track to anywhere on their online shop. VirtueMart MP3 player plugin displays an audio player from the product interface of the category page and a playlist for each album. Parameters are editable in the admin parameters configuration.
Plugin 1: VirtueMart Custom Music Player
Use the VirtueMart Media Manager to upload one or more mp3 files to downloadable products
Supported music file format: MP3
Administrators can insert 2 files: trial files and full files
Admin can insert each track for music products
Automatically appear a download link when an customer's order is confirmed
The download link will be sent to customer's email address, the plugin will hide the real track link and requires the customer to enter passwords for security target.
MP3 player url path will be encrypted so it is not possible to find the mp3 from the source code
Download link is encrypted with MD5 technology and expired after an hour
HTML5 player
Compatible with iPad, iPhone, iPod... etc
Specify width and height of the player plugin (recommended dimensions: 200px X 24px).
Plugin 2: Music Player System
Based on each trial song which was inserted into a downloadable product
Plugin 2 displays the audio player from an interface of each product on the category page.
A very special function for VirtueMart music sales website.
The plugin is developed with html5 technology and Jplayer.
Plugin 3: Music Playlist System
Based on the list of tracks to be inserted from the Plugin 1:
Plugin 3 displays a playlist of an album.
Used html5 technology and Jplayer
If there are more than one music file found, the mp3 player will automatically switch them into a playlist and users can listen all files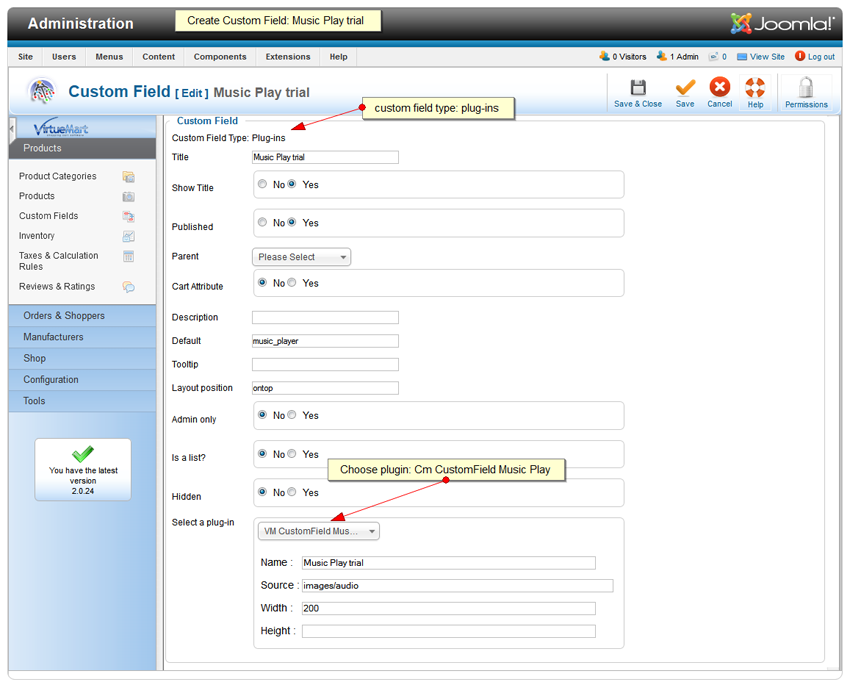 What you get: this subscription includes 6 months of support and updates.