Joomla Virtuemart Point Of Sale (POS) System
A merchant can create an order from his physical store using the POS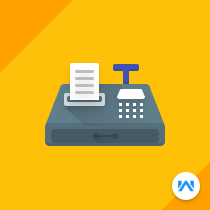 Price excl. VAT:
149,00 €
Extensions Specifications


license Type:
GPLv2 or later
Languages included
Description
Joomla Virtuemart Point Of Sale (POS) System refers to a system where the merchant can create an order from his physical store using the POS and the order will be easily generated at Virtuemart. When you have a physical store and a VirtueMart webshop you can sell your goods at your Point of Sale without giving your sales staff access to the VirtueMart backend. All products/orders/calculation rules/customers will be synchronized into the POS. In this manner, your web store inventory will be synchronized with stock at the physical store.
FEATURES-
Admin can easily integrate Joomla Virtuemart POS System into Joomla Virtuemart site.
Admin can decide cashier(s) among the Joomla site users, who can access POS system
All Virtuemart products are listed in "POS Products" and admin can publish/unpublish product from there.
All the registered customers with POS can viewable at "POS Customers".
Admin can set Receipt title from the configuration
All the Virtuemart products are listed in POS view on frontend along with price and SKU on hover.
The cashier can add a product to POS cart by simply click on the product and can manage quantity using increment/decrement buttons on POS cart.
Option to put the cart on hold is provided.
A cashier can simply search for products by name/SKU.
A cashier can simply search for a customer by phone number and also can add new a customer.
POS orders are integrated with VirtueMart and can be managed from VirtueMart too.
Responsive views.
HIGHLIGHTED FEATURES-
Supports Custom Fields, Cashier can choose from different available variants.
Supports Barcode reader, Admin can generate Barcode of products from "POS Products" admin panel and can print barcode label. Casher can add a product using barcode reader.
Sync order with VirtueMart.
Reviews
There are yet no reviews for this product.