Joomla Virtuemart Auction
This magnificent extension provides merchant the ability to sell desired products on auction.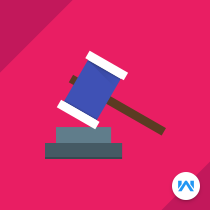 Extensions Specifications


license Type:
GPLv2 or later
Languages included
Description
This magnificent extension provides a merchant with the ability to sell desired products at auction. The add-on provides a changed pattern in which buyers acquire the products. This allows the user of the site to bid in an auction with competitive prices for their preferred products.
Features-
Well integrated with Joomla Virtuemart site.
The concept of Email has been provided for bidder, auctioneer and outbid buyer.
Functionality to hide add to cart button and price details from listed auctioned products is available at the backend.
Functionality to set auto increment in bid value after each bid is available.
A feature of automatic currency converter is available. It allows the amount of auction to change according to the currency selected.
Option to define winner of a particular can be managed manually/automatically as per the admin's configuration.
Option to set Email layout is available at admin end.
Admin can choose various properties related to front end view which includes the background colour, border colour and border width.
A separate tab is provided to maintain and manage the history related to auction.
All the bids placed can be viewed separately for that particular product and the manual winner can be decided from there.
Option to select winner manually before auction end is available.
The concept of countdown timer is displayed on auction products if the auction is active.
The facility to avail the functionality of auction is available for the registered user.
Latest Features Of Joomla Virtuemart Auction -
Any user can view the auction.But only login user can place bid
Now if a user is not login, Display login module in a popup instead of redirecting for login.
Admin can set currency symbol position
Reviews
There are yet no reviews for this product.