Ajax Drop Down Cart
Powerful and user-friendly drop down cart swiftly revealing the products in the cart add-on module for your store.
Extensions Specifications


Languages included

Description
Almost well known e-stores today have powerful drop down carts swiftly revealing the products in the cart very user-friendly. Ajax Dropdown Cart makes the ecommerce websites look tidy as well as competent, giving customer's pleasures when reviewing products they have chosen. Ajax Dropdown Cart VirtueMart extension is easy for you to set up like a regular Joomla installation. After you activate the module and put it on any chosen position on your Joomla template (the top/ the header is recommended), then it will be ready to activate the dropdown cart extension. VirtueMart extension is a great add-on module for your VirtueMart shop. The extension supports multi languages and you don't need to translate anything. Ajax drop down cart contains whichever currency that your VirtueMart website uses. You just translate the VirtueMart plugin to your native language, apply the currency, then everything will be automatically set up.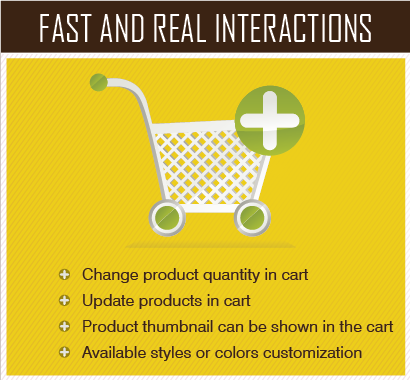 Ajax Drop Down Cart Features
Fontend Features:
Instantly add products to cart without reloading the cart page
Cart's content can be expandable with effects
Update products without loading pages
Remove any product on the cart page
Ajax load
Support multiple skins
Admin Features:
Easily customize pop-up skin
Config image thumb on cart
Enable/disable the module
More Features:
Customer can increase/decrease product quantity
When the quantity is updated, the price will change accordingly
Can delete any product in cart
Empty cart and shopping again
Immediately update the total price of the cart, working with VirtueMart calculation system
Include custom fields for each product
The collapsed line shows how many products in the cart are
This module is compatible with the latest VirtueMart versions VM 2.6.x and Joomla 2.x.x and VM 3.x and Joomla 3.x
Modern admin panel interface
More user-friendly features
Options to choose the layout style: available styles or custom colors
Show/hide the delete button
Show/ hide the update button
Show/hide quantity input fuction
Show/ hide the update function for all products
What you get: this subscription includes 6 months of support and updates.
Reviews
There are yet no reviews for this product.