Joomla Virtuemart FedEx Shipment
FedEx Shipping method for shipping the product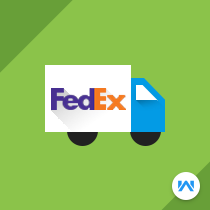 Description
Joomla Virtuemart FedEx Shipment plugin provides FedEx Shipping method for shipping the product. The portfolio of shipping services has been assembled to address the unique needs of all customers. Whether shipping near or far, to clients or family, in a hurry or not, there is a service right for everyone.
FEATURES-
Admin can set different names to different FedEx plugins as per the FedEx service that will be displayed on front end.
Admin can set packaging type and drop off type.
Buyer will get the tracking id by which they can track their order. Track details are also shown on Order Details page.
Admin can set different Shipment methods for different services of FedEx provided by the plugin.
Labels are stored for each shipment, Admin can download label from orders view - backend.
Support Multiple package shipment.
If FedEx service not allowed, that particular shipment is greyed out and not selectable.
LATEST FEATURES-
The functionality of storing labels at admin end is available.
Functionality to download labels at admin end is available.
An option of a separate or multiple packages in a single box.
Reviews
There are yet no reviews for this product.