Advanced VirtueMart Invoices
Powerful component to create VirtueMart orders, issues PDF invoices, changes invoice layouts...inside VirtueMart admin panel.
Extensions Specifications



Languages included
Description
VirtueMart is the leading Joomla eCommerce platform, and we have to write a long list to mention its powerful functions. Create an order and issue a PDF invoice for clients with our plugin. To access the back-end demo, please browse to demo7.cmsmart.net/advanced_virtuemart_invoices_vm3/administrator/ and log-in as below:
Username: demo
Password: demo123456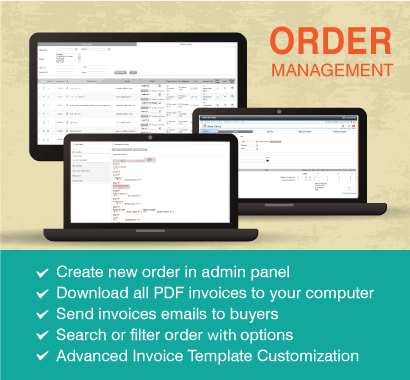 Main Features
Create a new VirtueMart order from VirtueMart admin panel
Batch invoices downloads
Filter and search orders
Invoice Template Customizations
More Feature
Save the order processing time: Save your time to transform the e-commerce orders into invoices, giving you options that VirtueMart cannot. The extension can improve your business workflow on a daily basis.
Quickly update order status: A number of order status can be updated just by one click without refreshing the page so you can save time viewing orders and invoices.
Quickly export: The batch bar allows a smart filter to process multi order at the same time.
Easily customize orders: You can adjust invoice appearances with available custom fields . Just enter the updated contents, the system will automatically recalculate the price. Automatically update taxes by Ajax when the location changes
User friendly interface
What you get: this subscription includes 6 months of support and updates.